After a week off boozing it up in the backwoods of Boone, North Cackalacky (home of the Michigan State beating Appalachian Mountaineers!) it's time to get our shenanigans back on with a little blindsiding entertainment.
What time is it?
Sucka Punch Time!
---
The Main Event:

The Secret Six

versus

The Birds of Prey

versus

General Kerimov
The Birds of Prey have been sent to Azerbaijan to investigate General Kerimov who has hired the Secret Six to transport an old Rocket's Red powersuit which happens to hold a resurrected
Tora
(which is --at least—odd), who Kerimov resurrected and plans on using to influence the superstitious populace.
Truly this was one of the best story arcs in comics ever. It's already yielded one
Sucka Punch
for us, but can it really give us two in one issue?!
It's hard to tell who's sincere and who's not in this panel
.
After a convoluted series of issues, it seems as if a simple solution is too much to ask for.
Or is it...?
Bullet-punch to the dome, Sucka!!
Enter, Floyd "Deadshot" Lawton, Problem Solver.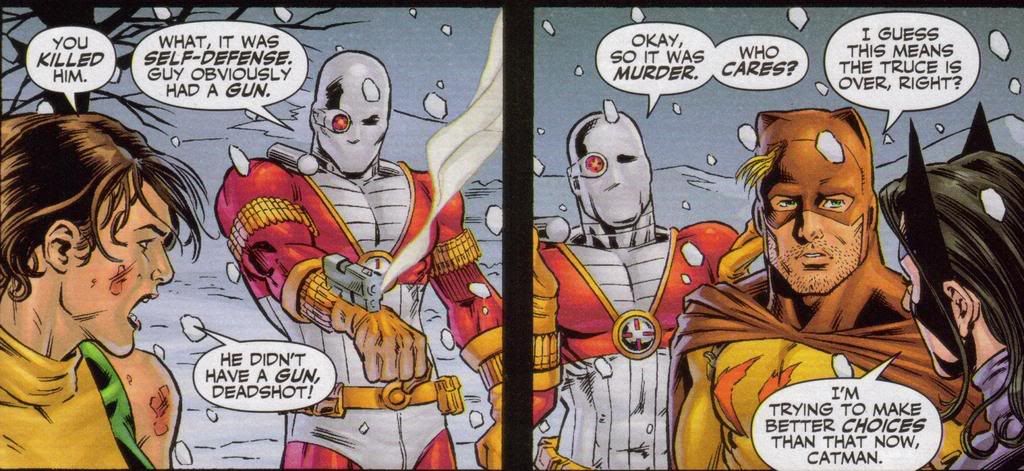 Floyd hands out business cards that say: World Class Ass-Kickings, Ten-a-Penny.
This is why Floyd needs to get more play. Contrarily, I'm a little sad to see him back as yetta'nother badguy. The Secret Six was the best cred Floyd had in a while. Yeah, yeah, he
IS
the Suicide Squad and all that, but I would've liked to have seen him left out of it in favor of the S6.
Maybe next Christmas.
---
Birds of Prey #107 brought to you by Gail Simone and Nicola Scott, Doug Hazlewood.
Poor General Kerimov never saw it coming. You know who always sees it coming?
Bahlactus
that's who. Go see what he's got for you.
As you've probably guessed there will be no Pop Culture Fight Club until I get my really real writing done. No Dionne Warwick v. Warwick Davis tonight either. Although, truly the humor of that altercation is best spent entirely in the imagination.
Close your eyes with me and believe.
---