In light of my growing appreciation for the first hero of the Silver Age, Captain Comet (also my derision toward Geoff Johns and his love of superheroic dog-piles) in my recent reviews; I thought I'd take this opportunity to highlight a truly inspired brawl of modern classic comics' history.

---

Tonight's Card


The Golden Age

versus

Dan "Dynaman" Dunbar

We join the fight already in progress...

Most of the major hitters have taken a swing at Thomas N. Thomas's former sidekick and been put out to pasture.

Green Lantern, Starman, Hawkman and even Johnny Quick have already had their clocks cleaned and pockets turned out by the erstwhile Dyna-Mite.



"And I'm pitty! I'm tho pitty!"

It looks like the former All-Star has this all buttoned up and dressed for church.

The Golden Age wasn't filled with over the top superpowers the way the science fiction inspired Silver Age will be. Is there no one left to stand up to the new breed of atomic Übermensch?

What's this?! An 11th hour dark horse jumps into the ring.



If it bleeds it leads.

Who is this mysterious gentleman stepping into Daniel's overpowering grist mill?

What brave unknown?

What powerful pugilist?

Whoever he is, we can see he's still not enough to take down the personification of this bold new age.

But wait! While Dunbar's attention is focused on the daring derring-doer another occulted contender takes advantage!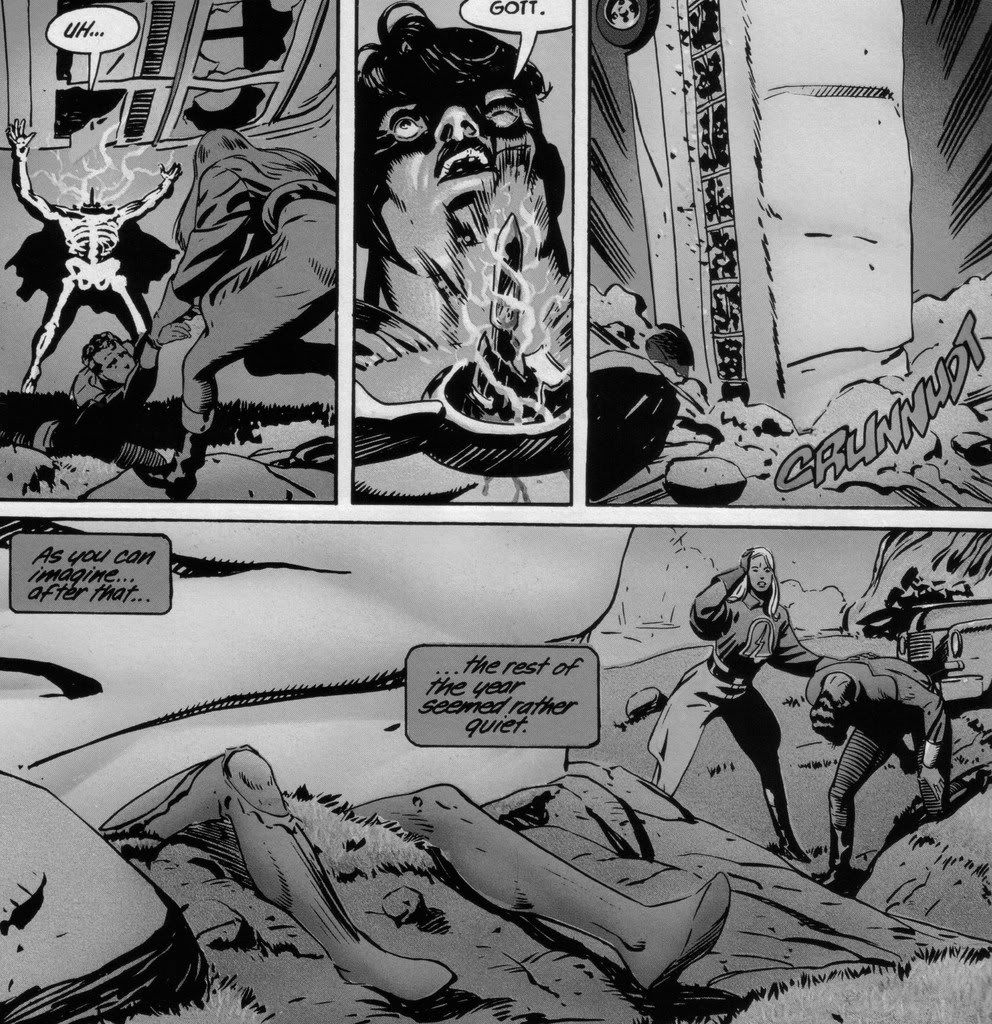 "You're terminated, fucker."

I don't believe it! I just don't believe it! The champ is down!

Winner! In the voluminous khaki trunks: Elizabeth "Liberty Bell" Lawrence!

…also the future Captain Comet there for not eating that schoolbus.

---

Gott en Himmel it's Bahlactus!

Seriously, if you've never read James Robinson and Paul Smith's Golden Age, you're doing it wrong. I could scan a hundred panels and still not capture the face-melting rawesome therein.
---