The time is upon us once again blogosphere!

The time to dance the dance of a thousand fists known as:


Friday Night Fights!
---

Tonight's card:


Aqualad Garth

versus

Ocean Master Orm
(and Croneys)

Earlier this week we were saying Aqualad gets no respect. Let's see if a turn in the ring can't up his Q rating.

We find the young man fresh from the ocean depths and jumped by several shadowy figures in service to Aquaman's archnemesis: Ocean Master.

You think the lad is going to be able to step up and fight like a man?



"I'd recognize that frog-eyed… duck-billed… helmet-hat anywhere"

See this is what I'm talking about right here. You see Garth on the ground outnumbered four to one and you think: What the Hell is Aqualad gonna do, right?

Well let's put it to the test.

No looking ahead.

Will Garth:

A) Tear at his dark, lovely ringlets in indecision.
B) Scream like a school of fish just swam by.
C) Wet himself and blame it on the ocean.
or
D) Spring into Aqua-action with a kick to the face.


---


If you chose D) you know Garth better than Amy Wolfram.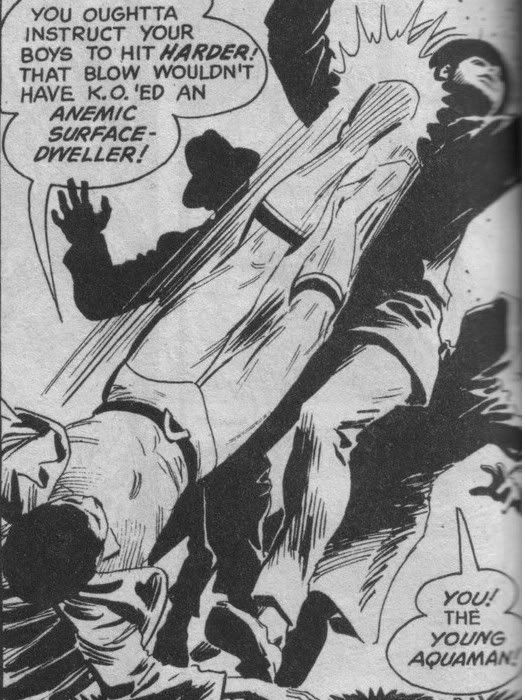 "Tell your land lubbers, they're weak sauce, Orm."

Listen to Garth here, looming large and looking down on surface dwellers. A good 20 years before Arthur was recast as a jerk with a hook hand, Garth was cutting his teeth with a little racism and two boots of righteous fury.

With moves like that I suddenly like him in this fight.

I say he takes out the trash in eight moves.



"Friday's Special: Fish knuckle sandwich with a side of slaw."

That's where crime in Garthtown takes you? Nowhere, man. Simply nowhere.

It only took him five. Is that man enough for you?

---

You know who's 100% Grade A Beefcake? Bahlactus.

Teen Titans #28, Story by Steve Skeates, art by Nick Cardy
---